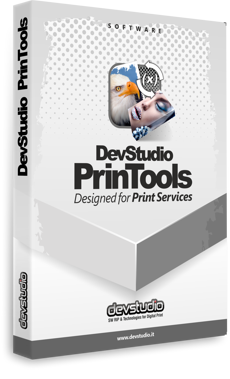 DevStudio PrinTools:
The software tailored for photographers and print services.
Simple and intuitive!
In just a few steps it allows you to achieve amazing results in managing your files.
Cut down production times!
Optimize and customize your workflow. In a single software you have many useful tools that allow you to go to print quickly.
Manage:
Single images (frame and vintage effects, resizing …)
Paneling and Mosaic
Imposition (Business cards, booklets, brochures …)
Variable Data (Labels, envelopes, badges, calendars …)

Available for Windows or Mac OS


Utility software for Photographer and Print Service

Ease of use, power and flexibility!

Available as an option in the RIP or in the stand-alone version without RIP
DevPrinTools Utility
DevStudio has created a tailor-made tool for the photographer and the print service:
Single Image Management
Tiling / Mosaic
Imposition (Business cards, booklet, Brochure …)
Variable Data (Labels, envelopes, badges …)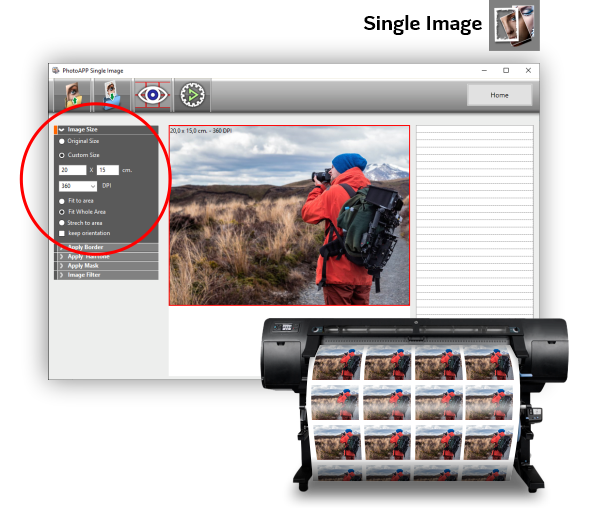 Layout your photos with simple and intuitive tools.
Set the size, cut or adapt the images to the numerous formats available. Add edges and special effects like aging and sharpening. Apply masks, frames and the halftoning effect that simulates the screen printing screen, lightens the images and saves ink for T-Shirt prints.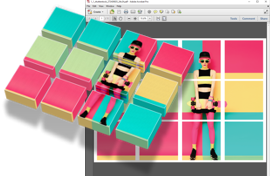 "Mosaic & Tiling"
Get maximum control in the professional management of mosaic effects.
Divide an image into individual frames. Manage the spaces between the various elements and define the thicknesses and effects to apply to the frames.
In a few simple steps you can create mosaic panels and tilings of any size and number of elements, thanks to this solution designed for the graphic, photographic, interior decoration, design, etc. sectors.
"Impose"
Layout images for printing by making the most of the most common formats or by defining your own layouts.
Manage the "Duplex" functions to make booklets, business cards, brochures, manuals, etc.
Create the imposition starting from various files or from a multipage document by checking the position, the number per sheet and the cutting marks of each single image.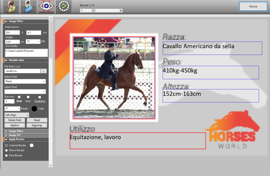 "Variable Data"
Optimize your workflow and get files and variable data prints.
A complete tool that offers the tools to acquire data from an Excel file and define and populate a layout with different texts and images for each single copy. Make business cards, badges, calendars, labels, barcodes, etc. with precise and rapid front / back management, without the aid of external programs.
Watch the videos of the DevStudio PrinTools solution
All trademarks are registered and belong to their respective owners. The information and data contained in this documentation and software are subject to change without notice.