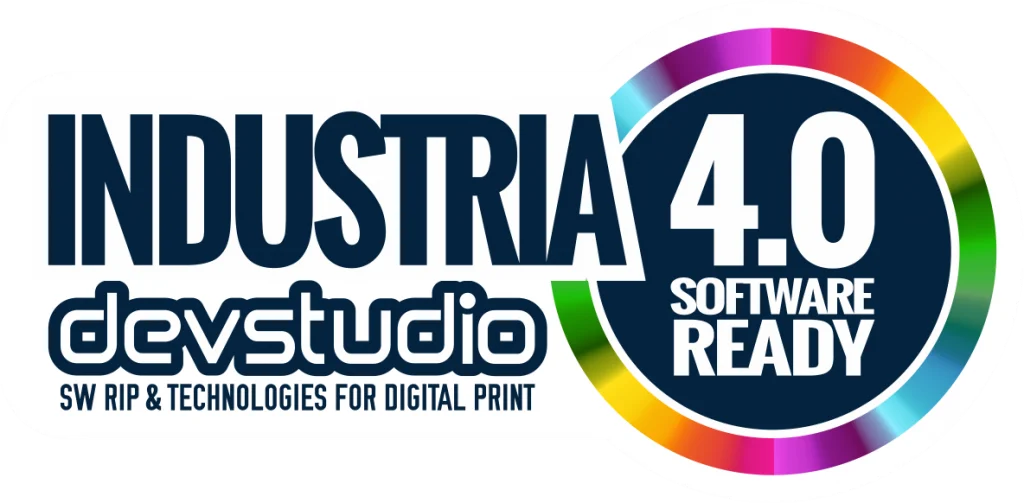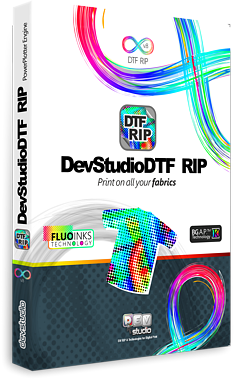 Better Quality:
Specific profiles for DTF that guarantee color fidelity and a precise preview on calibrated monitors.
More Productivity:
Fast print engine and intuitive interface with productivity tools, Mask editor, Color removal, Color variation …
Integrated system for the management of the mirror printing and the creation of specific screens to lighten the images.
Automatic head cleaning procedures.
Less Consumption:
Reduced consumption thanks to an optimized use of black in standard profiles.
Calculation of ink consumption in the estimate and in the final balance.

Available
Windows or Mac OS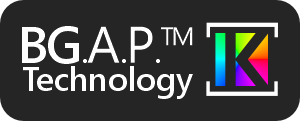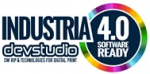 RIP software designed for printing with DTF technology

DTF is an inkjet-based technology to print directly on film and then transfer it to a support. DTF ink is made of plastisol and is very strong and elastic. You can print on Cotton, Polyester, Leather, PVC ...

LIST OF SUPPORTED PRINTERS (List growing every day):
A3 (+) Size
L1800 DTF (CMYKWW)
L1800 DTG (CMYKWW)
SP1430W DTF (CMYKWW)
SP1430W DTG (CMYKWW)
P40X DTF (YMCKWWWW)
P40X DTG (2xCMYK)
P40X DTG (YMCKWWWW)
R180X DTF (WWWWCMYK)
R180X DTG (2xCMYK)
R180X DTG (WWWWCMYK)
R190X DTF (WWWWCMYK)
R190X DTG (2xCMYK)
R190X DTG (WWWWCMYK)
P60X DTF (CMYKWWWW)
P60X DTG (2xCMYK)
P60X DTG (CMYKWWWW)
R3000 DTF (CMYKWWWW)
R3000 DTG (2xCMYK)
R3000 DTG (CMYKWWWW)
A2 Size
P80X DTF (CMYKWWWW)
P80X DTG (2xCMYK)
P80X DTG (CMYKWWWW)
SP38XX DTF (CMYKWWWW)
SP38XX DTF (WWWWCMYK)
SP38XX DTG (CMYKWWWW)
SP38XX DTG (WWWWCMYK)
SP48XX DTF (CMYKWWWW)
SP48XX DTF (WWWWCMYK)
SP48XX DTG (2xCMYK)
SP48XX DTG (CMYKWWWW)
SP48XX DTG (WWWWCMYK)
SP49XX DTG (CMYKWWWWWW)
SP49XX DTF (CMYKWWWWWW)
SCP50XX DTF (CMYKWWWWWW)
SCP50XX DTG (CMYKWWWWWW)
A1 Size
SP78XX DTF (CMYKWWWW)
SP78XX DTG (CMYKWWWW)
SP78XX DTF (WWWWCMYK)
SP78XX DTG (2xCMYK)
SP78XX DTG (WWWWCMYK)
SP789X DTF (CMYKWWWW)
SP789X DTG (CMYKWWWW)
SP79XX DTF (CMYKWWWWWW)
SP79XX DTG (CMYKWWWWWW)
SCP6000 DTF (CMYKWWWW)
SCP6000 DTG (CMYKWWWW
SCP6000 DTG (CMYKWWWW)
Standard Epson DTG Printers (A2)
SureColor SC-F2000
SureColor SC-F2000 (2xCMYK)
SureColor SC-F2100
SureColor SC-F2100 (DTF)
SureColor SC-F2100 (2xCMYK)
Extra
All Cinese controllers printers
All trademarks are registered and belong to their legitimate owners – The features and functions reported in this document may vary depending on the version, are not binding and subject to change without notice.